044 - Streakin Lil Topaz
Reg Number: 5453130
March 17, 2012 Palomino Quarter Horse Mare
Owned By: Frenchmans Quarter Horses
Return to Previous Page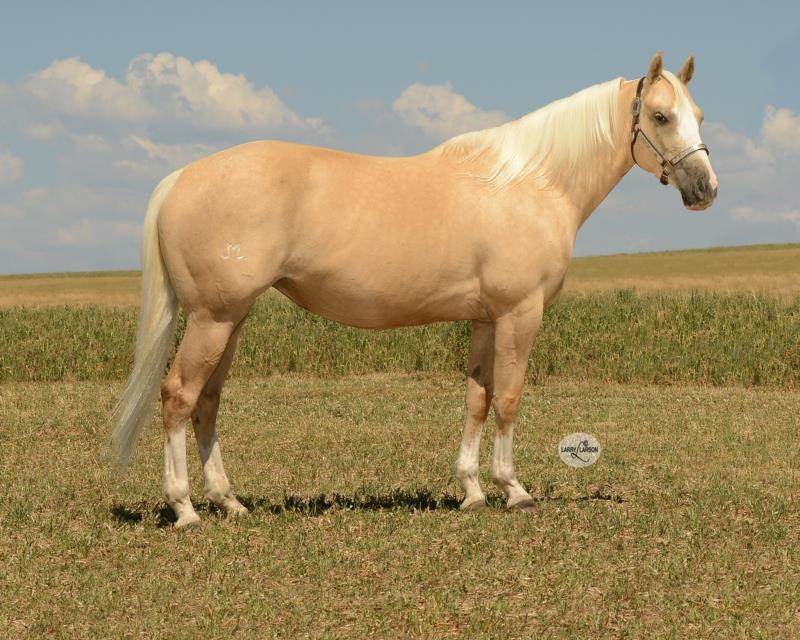 STREAKIN LIL TOPAZ, 2012 Palomino Mare
This mare is perfect. She has color, size, disposition and her first colt is an intelligent little powerhouse.
The Frenchmans Topaz family includes AQHA World Champion Love A Lord, and NFR qualifier Casey's Lord. Eyesa Topaz, ridden by Anita Randle to 2017 & 2018 NBHA World 1D Championship and has earned NBHA Youth 1D World Champion status. Streakin Lil Topaz is a full sister to Turn Again Frenchman, ridden by Erin King to multiple Futurity, Derby and Pro-Rodeo winner's circles and is a money earning rope horse. Turn Again Frenchman known as "Elvis" is now producing winning arena horses.
Streakin Lil Topaz is loaded with Casey's Ladylove genetics. Granddam's Frenchmans Lady (dam of Frenchmans Guy) and Frenchmans Topaz are Casey Ladylove's daughters and are two of her best producers. This mare is all you need to start a world class program.
In foal to Absolut Frenchman (Stoli x PC Frenchmanslisbet) for 2020
This cross will bring Casey's Charm, another exceptional Casey's Ladylove broodmare into the mix!
---
Streakin Four Sixes

---

Streakin Six s.i. 104

---

Easy Six s.i.




by Easy Jet

---

Miss Assured

---

Samantha Wrangler

---

Rocket Wrangler

---

Kallista




by Raise Your Glass TB

---

Frenchmans Lil Topaz

---

Frenchmans Guy




A leading sire of barrel horses

---

Sun Frost




World Champion sire

---

Frenchman's Lady

---

Frenchmans Topaz

---

Leige Lord AAA

---

Casey's Ladylove




AQHA Hall of Fame

---