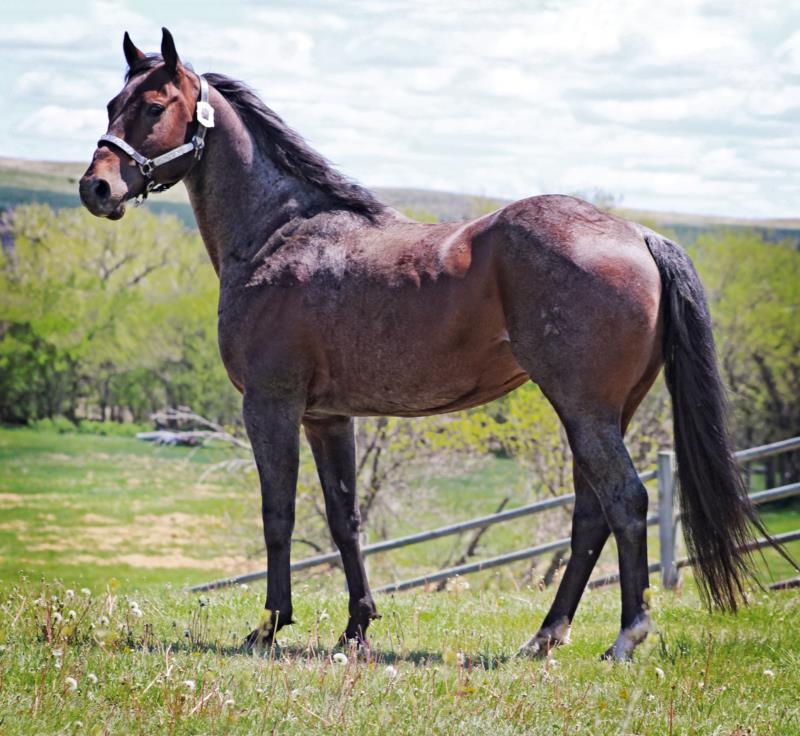 Roan son of World Champion Barrel Racing Sire!
Stud fee $1,250
Click here for breeding contract
Very athletic, great action, solid mind, Flit Drift is roan with black mane and tail, quick and catty. Flit Bar, John Red, Orphan Drift, and 4 times to Leo! His sire, Dr Nick Bar, was an NFR barrel horse and earned 90 AQHA points; he has sired two World Champion Barrel Horses, "Martha" (Sugar Moon Express) and "Babyflo" (Flos Heiress). Flit Drift is a breedy-type horse with good withers and back, feet and bone. "Nick" has speed, agility, heart, and a big, big stop. He has earned his AQHA Performance Register of Merit with points in tie-down roping and heeling. Cody Marx won the tie-down roping at the 2016 Madison PRCA Rodeo aboard Flit Drift. Tom Hunt and "Nick" won the Amateur and Novice classes, and Reserve Non-Pro at the AQHA Ranch Heritage Breeders Challenge in Rapid City, SD. Flit Drift's offspring are very quick and athletic, fast, trainable, and good-looking. He is a nominated stallion to the 5 State Breeders Barrel Futurity and the Select Stallion Stakes.
Sire Notes:
Dr Nick Bar is a World Champion barrel racing sire. He has also been a NFR qualifier, an AQHA World Show qualifier, and has 97 AQHA open performance points in heading, heeling, and pole bending. He has produced great futurity horses such as Christie Nick Bar, Willy Nick Bar, and the only stud to win Ft. Smith Futurity, Leo Nick Bar. Lindsay Sears' great NFR and World Champion mare, Sugar Moon Express "Martha" is by Dr Nick Bar. Dr Nick Bar is a son of Flit Bar and is double bred Leo. Flit Bar sired WPRA and AQHA World Champions and several NFR qualifiers.
Dam Notes:
Beautiful roan mare with black mane and tail, excellent producer. Her sire is NCHA Bronze Award winner Jae Bar Flinn, $33,000 plus earnings, 36.5 performance points. Jae Bar Flinn is a brother to NCHA World Champion and Hall of Fame, Jae Bar Fletch.
Dr Nick Bar

---

Flit Bar

---

Sugar Bars SI 95

---

Flit SI 85

---

Este Tag

---

Leo Tag SI 95

---

Little Estileta

---

Docs Redwood Reba


Click here for More Info!

---

Jae Bar Flinn

---

Doc's Jack Sprat

---

Baby Starling

---

Redwood Patti

---

Orphan Drift

---

John's Sal

---