Rafter Ranch Blog



Transportation questions


9/13/2019


A lot of folks ask about hauling; there will be haulers in the area, maybe not the day of the sale but soon thereafter. Here are the ones we know of so far, will add others if we learn of more:

Wade Nelson will be making a trip to Washington state in the next couple of weeks with an empty 24 foot stock trailer, 3 compartments. (605)490-1822. Wade is a rancher and feed dealer from Faith, SD.

Nate Wallman is available to haul any direction, would like to put a load together, has a 24 ft. stock trailer with compartments. (605)999-5090. Nate is a horse breeder and A-I tech from Lusk, WY.

Haley Kussman will be taking a trailer back to north central / south central Kansas. (785)648-0181.

Jeb Hunt will be available in a week or two to haul most any direction, stock trailer or 4 horse slant. (605)200-1997.
---
Host Hotel for Horse Sale 2019


9/11/2019 10:32:01 AM


Here is information on our Host Hotel for the September 14 Horse Sale in Rapid City.

Best Western Ramkota Hotel and Conference Center

2111 North Lacrosse Street

Rapid City, SD 57701

(605)343-8550 for Reservations; ask for the Horse Sale Rate.

Located right off Interstate-90, they have a lap pool, indoor water park, plenty of parking, easy access to the Central States Fairgrounds, and one of Rapid City's most popular restaurants!
---
2019 Sale Info Updates


9/11/2019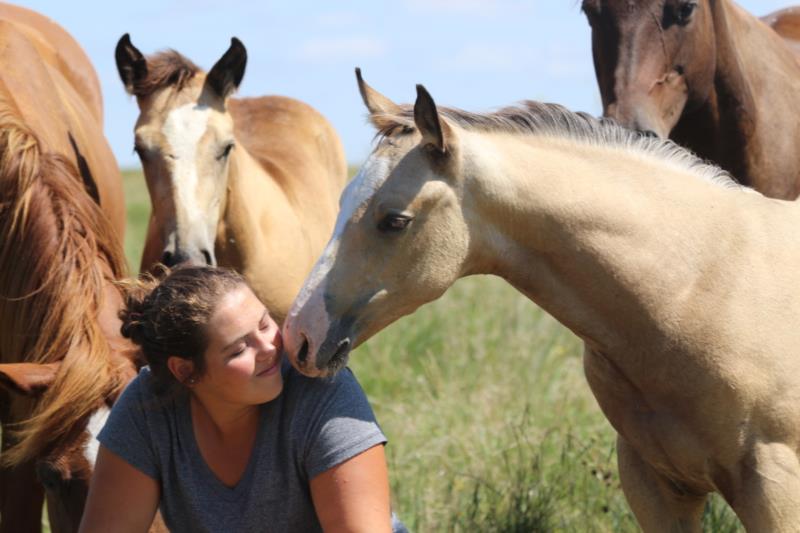 Lots 61, 74, 76, and 87 are out of the sale.
Sale order will be posted Thursday eve on website.
---
FAQ Sale Stuff... 2019 Updated


9/5/2018


Here are some answers to frequently asked questions regarding the sale:

All sale horses have a current Coggins test, and a vet will be on hand to write health certificates. Equine insurance agents are also at the sale and can write a policy on the spot. See details inside back cover of the Catalog.

If you are at the sale without a trailer, or purchase over the phone or internet, yes, your horse can stay at the Fairgrounds overnight. Our crew will put them back in the barn and feed and water them. We will help you load out on Sunday.

If you cannot pick up your horse right away, please call Jim Hunt (605)365-7249 or Lis Hollmann (605)890-1610 to make arrangements to take your horse home.
---
2018 Sale Updates!


7/8/2018

Welcome, friends.
The 2018 foal crop is on the ground, the 2018 sale catalog is starting to go online under Horses For Sale link on our homepage, and we will be posting new sale horse photos as we go. Pictured is the Flit Drift blue roan filly out of Colonels Oprah - she's a good example of the Flit Drift fillies: athletic, alert, with color and class!
Also, please note our new Merchandise link, with our first item for purchase, Eight Sisters Cookbook. This cookbook is one I compiled for my mother and her seven sisters and two brothers, a family of outstanding cooks. It makes a great gift for wedding, shower, birthday, etc, and contains some of our favorite recipes, including Calico Beans, which we serve after the horse sale to our sale crew, buyers, and friends! We will be adding OBRR tee shirts, caps, and some special purchase items as we go.
Please check back periodically for new horse sale info, updates, pictures, recipes, etc... and thanks for visiting!
Blessings,
Joni Hunt
---